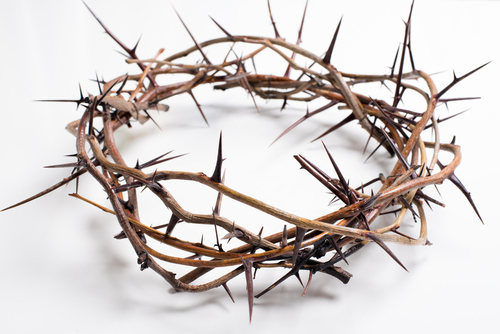 The youngest of the disciples was John, believed to be the cousin of Jesus. Maybe that's why the Lord had a special affection for him, the younger little cousin he played with as a child. Scripture refers to him as "the one whom Jesus loved." In our Lords dying hours on the cross He committed his Mother Mary to John's care and she lived out her life in his home.  Clearly, it was a special relationship they shared.
Among the other disciples was the gregarious Simon Peter.  A robust fisherman whom Jesus called to be "fishers of men".  In a pivotal moment when many turned away from following Jesus, he asked his remaining disciples,  "Do you want to go away as well?" It was Peter who responded "Lord, to whom shall we go? You have the words of eternal life, and we have believed and have come to know, that you are the Holy One of God."  Special men that shared an all consuming love and devotion to our Lord.
Despite their unquestionable dedication, scripture states in Mathew 26: 31, there came a time when they all fell away.  Peter who vehemently professed earnest love and commitment assured Jesus, "Even if I have to die with you, I will not deny you." All the disciples made the same promise. Yet we know how the story ended, that "before the cock crowed" Peter denied him three times. Not only denied him, but vulgarly swore and cursed he had never even met Jesus. (Mathew 26:74)
I have never sworn and cursed, denying the name of our Lord but at different times of my life, my behavior has denied him. Denied his commandments, denied his truth, denied his holiness.  As Simon Peter did, I have also wept bitterly. It is a sobering and humbling experience to discover what lies within the human heart.  Your heart.  But it allows for an embracing of a powerful, transformative truth that the scripture reveals in  John 2:24.  "But Jesus, for his part, did not entrust himself to them, because He knew all people (and understood the superficiality and fickleness of human nature) and He did not need anyone to testify concerning man ( and human nature) for He Himself knew what was in man (in their hearts, in the very core of their being.)- Amp. Bible
He alone solved the greatest problem of our lives: our own nature. He came to bring us the most precious gift one could give. Forgiveness, unconditional love and the power to become like HIM.  In Jesus Christ, at the cross of Calvary, mercy and truth kissed. Compassion poured forth through every drop of his shed blood. Compassion for your sin and pain, compassion for mine.  So what did that do for me?  It resulted in Grace. Undeserved, unmerited, grace. Grace that changed my life. Grace that healed my heart.  I guess that's why it's called amazing.