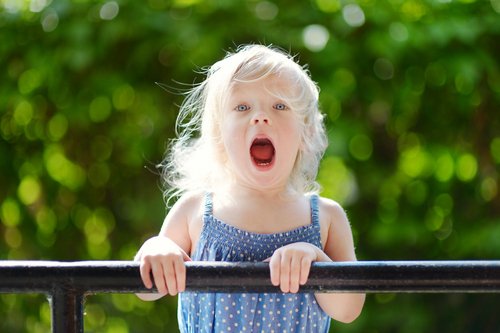 She was tiny for her age, and the skinniest little thing. As kids often are, she seemed oblivious to the people behind her.  Her Mom rushed to empty her cart as impatient customers waited to pay for their groceries. Frustrated, annoyed faces speckled the line as the cashier in training struggled with correcting an over-charge on the register. No matter. This little blond bandit ruled, if not the entire world, at least her Moms. "Come on baby, don't pull on Mommy's skirt like that" as the waist band on her floral print summer skirt pulled low enough to reveal her dark purple undies.
The other hand of this spirited creature flicked oddly to and fro as she engaged in pretend story telling to the invisible audience in her most vibrant imagination. The scene tickled me and a smile spilled across my face. Her mother's eye caught mine, and a half hearted grin and heavy sigh erupted, followed by a silent shrug of the shoulders. I could relate to her exasperation as she perfectly communicated the unspoken, 'what can I tell you?" sentiment.  As adorable as this child was, at this moment her Mom was done. My heart went out to her.
Yet to my surprise, today it was the silliness of this little girl I most related to, not the stress of those around me. Chuckling again I became captivated with her and the world she was engaged in as she strutted around her mothers grocery cart, ordering her unseen subjects to obey. She ruled this fantasy domain with a combination of ferocious tenacity and giggles.  Maybe it was the kind of Michael Jackson moon walk she added to the scenario that made me want to roar.  To me she was the personification of utter JOY and to my surprise she was igniting a compelling rush of JOY inside of me. That's well, not typical.

My childhood was not big on fun, joy or imaginative play. Our household was oh so serious, and  the predominant sentiment of worry permeated everything.  My Mom seemed to carry the weight of the world on her shoulders. LOVE? Absolutely. Giggles? Giggles were not part of the equation. So this compelling desire to jump in and do the moon walk with this little girl was unusual. It seemed a most tempting pleasure and I wondered if my expression gave me away to the disenchanted patrons on line.  Apparently this blond peanut and I shared the same JOY fever.
As I walked out of the grocery store smiling, I had to consider the emotions this precocious child unleashed in me. Really, what was I so happy about? Family disappointments ran deep, financial debt stubbornly hung on and my to do list is well, daunting.  Yet in the midst of day to day life I have found a formidable interior JOY that doesn't quit. It has become the staple of this season of my life.
Regret can not exist when living in a state of gratitude but certainly I wish this state had remained mine from it's first embrace many years ago. While reading the words of Christ in the book of Revelation I am struck by the profound statement Jesus made regarding the church at Ephesus. " But I have this against you. You have abandoned your first love."-Rev. 2:4
In the course of life unfolding, poor choices, wrong priorities, fear of the future and worry for what people thought (rather than what the Lord thought) brought me to the sad state where I too lost my first love. With it also went a deep sense of well being, inner peace and the aforementioned condition of Joy. Fortunately Jesus again provided the answer in my life: Remember and Repent.  Remember where you went wrong. Remember his commands, his goodness. and turn around! Rush back to him with a contrite heart, ask forgiveness and allow him to restore you.  Don't just call him Lord, make Him Lord. 
With that detail firmly in place His miraculous residue has again overshadowed me. As Deuteronomy 28 states his blessings will come upon you and overtake you.  I live again with a nothing short of a miraculous condition; JOY.
Maybe even a greater miracle then my physical healing. Like that little girl in the grocery store I've got the JOY fever.  It's no wonder I'm smiling.