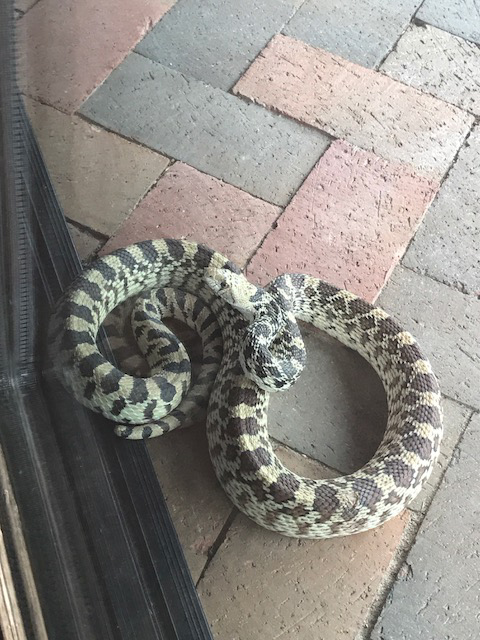 We've been in our home since 2001 and never have I seen this sight. The mere presence of this guy is unnerving enough but what made it even creepier was what he was doing. WATCHING. Right outside my glass door, as I worked away oblivious to his presence he was watching me. Staring through my pretty french doors he silently watched as I studied, wrote my notes and prayed.
I imagine it was like that in the garden. Satan so despised God's beautiful relationship with Adam and Eve enjoying the paradise he believed was his, I bet he exercised great patience watching and waiting for just the right moment.  "The serpent said to the woman, "You will not die! For God knows that in the day you eat from it your eyes will be opened, and you will be like God…"-Genesis 3:4  He has been a master deceiver from the beginning.
As I heard Champ, our Jack Russell/Lab starting to bark my attention was drawn to this unwanted visitor. DOMINION. In this situation I forfeited mine. My knee jerk reaction was to behave like a helpless child. I grabbed my phone, called my honey and detailed the staring creature at my door. When I hung up I snapped and texted him this picture lest he think I was being dramatic.  An hour later this creepy guest was back in the arroyo behind our property. "A snake at your door" my friend commented. "Keep your eyes open."
This morning in my same favorite spot, I engaged in my morning worship with the Lord. Did I mention that is my very favorite time of day?  Distracted by unfamiliar sounds I thought were probably house settling noises my little girl Lyra (chihuahua mix) bolted up and barked frantically. YES!  These sounds were definitely unsettling. Looking straight up
I almost barked as I saw 4-6 very large black crows attacking the sky light in my ceiling.  WHAT??? ARE YOU KIDDING?????  I jumped up yelled, screamed and waved my arms only to be completely ignored. Their strong beaks began to work the corners of the plexi-glass barrier between us as they vehemently attacked its edge. WHAT??? Never in my life have I seen such a thing!
My heart still throbbing and having no success with my rants I ran to find Lyra's little tennis balls that she loves to chase. Any sense of aim I used to possess apparently vanished as the balls hit everywhere else in the room except the sky light. Still screaming and ranting I ran up the stairs hoping to narrow my target as they vehemently worked the edges of  my protection. Yogi Berra I'm not, but with all my might and determination some of the balls made it. THEY DIDN'T CARE! They were on a mission… WHAT????  I ran outside on our deck, still one level below the skylight and jumped and screamed and threw all of Lyra's remaining balls. THEY CONTINUED.

TIME TO GET SERIOUS I thought.
OPTION A: Call Gabriel and try not to sound hysterical as I insist he rush right home before they break through.
OPTION B: Take dominion.
Sometimes you've got to put your money where your mouth is and I wasn't going to wait another minute. I COMMAND YOU ALL TO STOP RIGHT NOW AND LEAVE THIS PROPERTY IN THE NAME OF JESUS. Nothing. They continued. DID YOU HEAR ME? I COMMAND YOU RIGHT NOW TO STOP WHAT YOU'RE DOING AND LEAVE THIS PROPERTY IN THE NAME OF JESUS. LEAVE NOW AND DO NOT COME NEAR HERE AGAIN IN JESUS NAME!!!
This was a better work out than my elliptical machine as sweat dripped from every inch of my body and my heart raced. BUT I WAS DEAD SERIOUS AND THEY KNEW IT. Maybe more importantly…….SATAN KNEW IT.
They all left immediately. As my heart quieted and I returned to a somewhat normal state I began to process what happened.
DOMINION. "Be fruitful and multiply and fill the earth and SUBDUE it, and have DOMINION over the fish of the sea and over the birds of the heavens and over every living thing that moves on the earth."- Genesis 1:28
Jesus said, "I saw Satan fall like lightning from heaven. See, I have given you AUTHORITY to tread on snakes and scorpions and over all the power of the enemy. NOTHING will harm you."- Luke 10:19
So what do I think? Do I think the enemy sent those birds to do damage to my home and my well being? I absolutely do. But whether they were demonically inspired or just very poorly behaved birds God has given me dominion. Given us dominion.
DOMINION. In Hebrew the word is Radah. It's a royal word capturing the essence of ruling over, having authority over. It's ours.  It was purchased with a great price. We need to EXERCISE it.